Certified Men's Multivitamin with Organic Fruit & Vegetables by Rainbow Light (120 Vegetarian Caps) $31.99
Certified Men's Multivitamin with Organic Fruit & Vegetables by Rainbow Light (120 Vegetarian Caps) $31.99
Rainbow Light Certified Men's Multivitamin with Organic Fruit & Vegetables
(120 Vegetarian Caps) $31.99
Made With Organic Fruits & Vegetables

Enhanced Energy, Strength and Longevity

Protects the Male Core System
Reach a stronger state of health with Certified Organics Men's Multivitamin, a supplement that's rich in customized botanical blends to renew, strengthen, and protect core body systems for lasting performance, vitality and health. This comprehensive formula contains optimal, research-based potencies of nourishing certified organic whole foods, such as spirulina, acai berry, pomegranate, beet and kale as well as adaptogenic herbs including American ginseng, saw palmetto and green tea that provide energy, stamina and protections for the male system in an easy-to-swallow vegetarian capsule.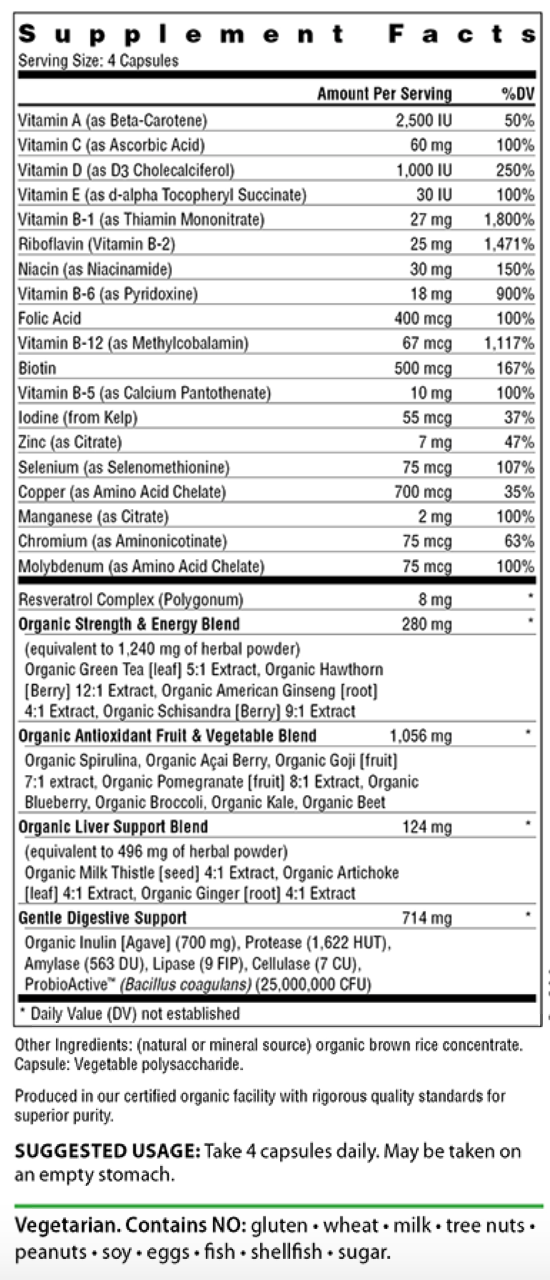 Directions
Take 2-4 capsules daily, with or between meals, may be sprinkled on food.
Free Of
Artificial colors, flavors, sweeteners, preservatives, sugar, lactose, gluten, yeast, milk, eggs, soy, nuts, fish/shellfish and wheat.
Disclaimer
These statements have not been evaluated by the FDA. These products are not intended to diagnose, treat, cure, or prevent any disease.